There are good reasons for taking a very close look at anything that threatens basic civil liberties, which is why the outcry by civil rights activists and NGOs in many parts of Europe five years ago should not be dismissed out-of-hand. The backlash was a reaction to the European Union's data retention directive, itself conceived in response to the increased threat of terrorism after 9/11. Analysing these data can enable law enforcement agencies to profile people using a mobile device - and in today's "always on" world that's pretty much all of us. How does it work? German MP Malte Spitz put profiling to the test using his own data. To get access to his own data, he had to file a law suit against his telco provider. After winning his case, he received the recorded data in an enormous spreadsheet. It contained more than 35, 000 rows – one for every instance when Spitz's mobile phone transferred data via the telco's network. Combined with data that can be accessed publicly, like blog posts and twitter tweets, they reveal a lot about their user's behaviour. Spitz allowed the German weekly "Die Zeit" to use his data to create an interactive map. Clicking on the map you can now easily track where he travelled over a certain period, and, to an extent, also why - because the interactive map integrates Spitz' telco data with his tweets and blog entries (data which is freely available on the internet). Embarrassingly for Spitz – a Green MP – the data reveal that he occasionally flies to Berlin, when he could take the train instead. Is it going too far to retain these data, even if their use is restricted to law enforcement purposes?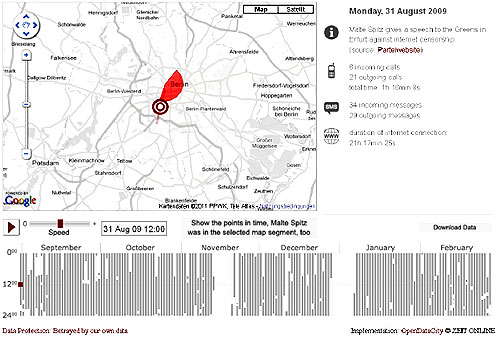 Jan Fleischhauer, editor of "Der Spiegel" advocates security while mocking "data phobia" in Germany, as he calls it. What is so dangerous about data being kept for six month instead of one, as was the case before the EU directive? Don't we rightly expect the government to be able to protect its citizens, asks Fleischhauer? And how could this be possible without keeping the data, at least for a limited period? To make his point, Fleischhauer refers to the case of the UK police forces, who analyzed call detail records in order to take all of the terrorists whose suicide bombings in London had failed on July 21, 2005 into custody quickly after the attempt – and eventually prevented the city from further attacks.
"Data retention? Yes please!" is the - possibly somewhat surprising - conclusion of the renowned journalist Michael Jürgs, former editor in chief of leading German magazine "Stern" - a liberal weekly magazine better known for its generally critical stance towards governmental institutions and its support for civil rights. Jürgs is the first German journalist allowed to do research within the German federal persecution agency (BKA). His starting point is the assumption that criminals never respected any rules. During his research at the BKA, he learned that data included in data retention legislation often was the only way to successfully conclude a criminal investigation. His conclusion: As a citizen you cannot be opposed to the protection of law and order, which he considers a central plank of democratic society. Consequently, he is in favour of re-introducing data retention for prosecution purposes, so long as court approval is required before authorities can access personal data.
The debate about the right balance between freedom, privacy and security remains an issue of ongoing relevance – and should always be the subject of public vigilance. But there is a – probably understandable – tendency in the public debate to focus on the risks associated with the theft or misuse of the data. These risks are, after all, immediate and visceral – and are amplified in Germany in particular by shared memory of, and revulsion at, the country's historical experiences with totalitarian regimes. But what of the benefits to the public good of the responsible use of anonymized data? To pick just three examples: In medical research, data can be analyzed to find the root causes for conditions that are not yet fully understood and so improve public health; by using smart meter data, utilities can increase the efficiency of their power generation assets, reducing CO2 emissions; and public transport organizations can adjust their network to better meet their customers' needs and to reduce city centre congestion.
So how should society embrace the use of private data for the public good, whilst mitigating the risks that this necessarily entails? To quote my companion on tour, and the star of our show, Teradata CTO Stephen Brobst, in a piece co-authored with Richard Hackathorn of Bolder Technologies: "As an industry, we need to seek solutions that are creative and compassionate and avoid those emerging out of ignorance or malice." That's a philosophy I commend to our audience on tour in Frankfurt – and beyond.
"