Going on tour with Stephen is tough on family life. My kids can't remember what I look like – and it's going to take some serious grovelling to get my wife to forgive me for the fact that I will be en route to Tel Aviv for the last leg of the Road Show on, of all days, Father's Day.
The great thing about being on tour is meeting all of you. Teradata customers – drawn as you are from some of the largest and most innovative companies in the world – are a diverse and eclectic bunch, with a fascinating range of business challenges and opportunities. Best of all, you're not shy and you're not afraid to tell us what you like - and what you want more of. That feedback is invaluable and we are genuinely grateful to all of you for helping us to stay number one in the industry.
Snake Oil
One of the conversations that I have had with many of you over the course of the last several weeks concerns a certain Oracle ad - reproduced below - that ran in the European edition of the Wall Street Journal (WSJ) recently.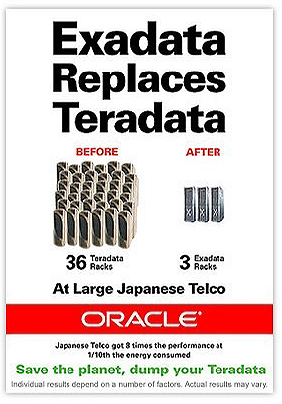 The ad is interesting on several levels: for what it says about Teradata; for what it doesn't say about Oracle; and because it illuminates some key differences in Corporate culture between our two organizations. It's also entirely specious – and if you're concerned that the philosophical parts of this post will either bore you, or represent a pointless exercise in self-justification, then feel free to skip straight to the penultimate section of this essay in order to cut straight to the chase.
What the ad says about Teradata
As a Teradata employee, once I got over my natural indignation that Oracle were calling our baby ugly, I actually found the ad incredibly flattering. Oracle want the market to compare Exadata with Teradata, because they understand that Teradata is the clear market leader. We knew that already, but it's always nice to be reminded!
Remember also that not so long ago Oracle were rubbishing the idea of a shared nothing database architecture - and claiming that Teradata was "proprietary". Now pretty much all the data warehouse platform vendors – Oracle included – go to market with an "MPP-like" architecture, packaged and sold as a vertically integrated appliance, with the operating system and RDBMS included, pre-installed and optimized for the hardware configuration concerned. Never mind that Exadata is actually a Frankenstein-like monster, neither truly shared nothing nor truly shared everything - even at the hardware level, never mind the software level – attempted imitation is nevertheless the sincerest form of flattery.
What the ad doesn't say about Oracle
Oracle want us to believe that they are an engineering-led company, delivering "breakthrough technology". Let's examine that assertion.
There is much to admire about Oracle. The company's gross margins are industry-leading; their proven ability to repeatedly and seamlessly acquire and integrate other technology companies is truly awe-inspiring; and the ERP marketplace in particular has clearly benefited from the increased level of competition that Oracle's move into enterprise application software a decade or more ago heralded. The Teradata ERP application of choice, you may be interested to learn, is Oracle's.
But engineering-led? Innovative? I think that the evidence actually suggests that this is a marketing-led company. Twenty-five (25!) years after Teradata first commercialised MPP database technology; thirteen years after IBM entered the market with DB2 Parallel Edition; and eight years after Netezza's incorporation, Oracle finally concluded what had been self-evident to the other players for some time - that the market wants to buy MPP data warehouse appliances – and duly produced a nearly-parallel product of its own.
And what new innovation have we seen from Oracle in this space in the three years since it introduced Exadata? Exadata Version 2 gave the world a server change (basically a consequence of Oracle's acquisition of SUN); a flash-based cache (interesting only if your workload can be relied upon to reliably score cache hits, which is unlikely for complex, real-world data warehousing); and a compression scheme which boasts that it is columnar, but which passes only one of Stonebraker's tests for a true column store."  In roughly the same period of time, we have added advanced geo-spatial capabilities to Teradata (13.0); the industry's first robust implementation of full temporal semantics and an advanced compression scheme of our own (13.10); multi-temperature storage that automatically migrates "hot" data to high-performance SSD-based storage and "cool" data to more cost-effective storage (Teradata Virtual Storage and the 6680 platform), etc., etc., etc. And as Teradata CTO Stephen Brobst has been explaining on tour, Teradata 14.0 – available for beta test now and generally available at the end of the year – is arguably even more innovative (hint: 6/6).
What the ad says about our different Corporate cultures
Teradata, by contrast, is not a marketing-led organization. Our leadership team reflects the twin priorities of the organization: engineering and deployment excellence. When we have money to invest, the first instinct of the entire organization is to spend on R&D - and on the Sales and Professional Services organizations that are required to identify and successfully deliver solutions to the complex analytical business challenges faced by leading global organizations. The rest of the organization – marketing included – has to make do with whatever is left over. All of which is why you don't often see us running full-page ads in expensive publications like the WSJ and The Economist.
Of course, we could play the same game as Oracle. See below an ad that we could run in the WSJ and elsewhere, if we chose to. But honestly it's not really our style – and we're not persuaded that you want us to invest a ton of money in this sort of advertising (and then pass the costs back on to you).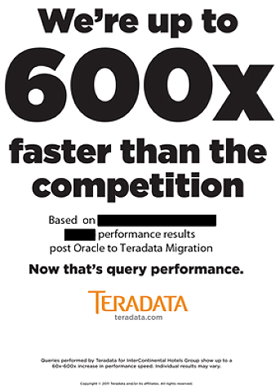 Will you get a 600x performance improvement by moving from Oracle to Teradata? Well this customer did. But notice that I don't tell you anything that would enable you to compare your situation with theirs; I tell you nothing about this customer's database, their workload, the version of the Oracle DBMS software that they were using – or the hardware that they were running on. And of course that's the whole point; adverts like these aren't intended to inform, but rather to mislead.
Debunking Oracle's Softbank Mobile claims
So is it true? Did Softbank Mobile (the company described in the advert and referenced elsewhere in Oracle's marketing literature) really migrate from Teradata to Exadata - and see improved performance, plus a reduction in data centre space, power and cooling requirements into the bargain?
Yes. All true, just as Oracle says it is.
What Oracle conveniently neglects to mention is the following.
The Teradata system in question was obsolete - and the improved performance that the customer saw was a function of the progress of Moore's law in delivering more computing power, not any advance in Oracle's software technology. Moore's law represents a rising tide which is lifting all of the boats - even the ones powered by DBMS technology like Oracle's, which is neither designed nor optimized for data warehousing. Unfortunately for Oracle, data volumes and analytical sophistication are both also increasing exponentially, which means that throwing hardware at a software problem is an increasingly unreliable route to goal. And Moore's law is no longer sustained by faster processors, it's sustained by putting more processing cores on the same chip - which means that nearly-parallel software isn't nearly good enough any more.
(Just to underline this point, note that the oldest nodes in the Teradata system replaced at Softbank were 5300 nodes, built around the Intel Pentium III 1.4 GHz processor; whilst Exadata V2 systems are built around the Intel Xeon 5670 processor. Now look at the chart below – and note that the y-axis scale is logarithmic. The SPECint rating of the two processors concerned are the leftmost and the rightmost data points of the solid line, respectively. Should we be in the least bit surprised that a system built around the later Intel chip is "8x faster" than a system built around the Pentium III processor? Or should the newer system have in fact been able to do rather better than that, all other things being equal?)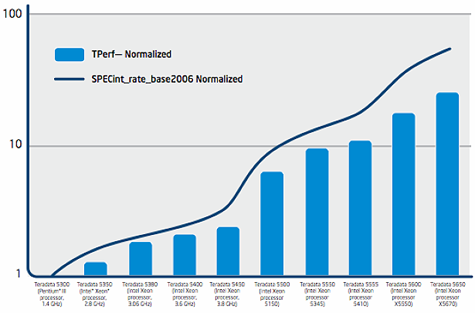 Throwing hardware at a software problem is also not environmentally sustainable. When inviting Teradata customers to "save the planet" by "dumping Teradata", Oracle doesn't address the fact that the obsolete Teradata hardware at Softbank could in fact have been replaced with a two cabinet Teradata 2650 Data Warehouse Appliance solution. And that a two cabinet Teradata 2650 Data Warehouse Appliance solution actually consumes less energy and requires less cooling than does a single Exadata V2-2 cabinet (Moore's law again), whilst performing substantially better for a typical data warehousing workload (smarter software that is really parallel, not nearly parallel).
Oracle also doesn't want to burden you with the knowledge that at around the same time that Softbank Mobile (Japan's #3 mobile telco) moved from Teradata to Exadata, Japan's #2 mobile telco was migrating in the opposite direction. Or to bring to your attention that the number of Teradata customers that have migrated to Exadata in the three years since the product was launched can be counted on the fingers of one hand – with fingers to spare, mind – and that in the same period, 15 times as many customers have ditched Oracle for Teradata. For clarity: not 15; rather 15x.
Note also that Oracle fails to expand on the "8x performance" headline by telling you anything about the data model, workload, level of user concurrency, etc., etc. concerned. You have no way of extrapolating the headline number to understand what mileage you might achieve in your environment – which is just the way Oracle likes it. And is another reason that we don't run "our" version of "their" ad, shown above – because without that sort of information, these comparisons are fairly meaningless. A survey by the advertising agency Y&R and reported recently in the Economist shows that the proportion of brands that consumers trust fell from 52% in 1997 to 22% in 2008. When you understand just how fast-and-loose some big Corporations are playing with marketing and advertising, perhaps that isn't so surprising.
By the way, it's not just the Teradata hardware that was obsolete at Softbank; the Teradata database software in use there was five major releases older than the current Teradata software release. Since we continue to invest aggressively in software performance optimization in every release of the database – achieving, for example, an average 30% performance improvement for the same workload running on release 13, compared with release 12, for free, just through software – this is further evidence that Oracle's simplistic, old-to-new comparison approach is worthless.
And one more thing
Softbank made their decision in 2009. We disagree with their reasoning – and were especially disappointed that we were not given the opportunity to compete or benchmark with a new Teradata system. But we respect their right both to make the decision that they did - and to lend their name to Oracle's marketing and advertising claims (another member of the Softbank family is a major Oracle distributor in Japan).
What is perhaps more surprising is that Oracle keeps repeating this story like its news, two years after the event. Is that all you have to show for your "billion dollar pipeline", guys? Really? If this is the most compelling evidence that Oracle can offer in support of their claim that they are taking market share from us, well, clearly they are not actually taking market share from us.
And on that note, adios and buenas noches from Madrid.